Law enforcement guarded State Capitol on Sunday after warning about potential armed protest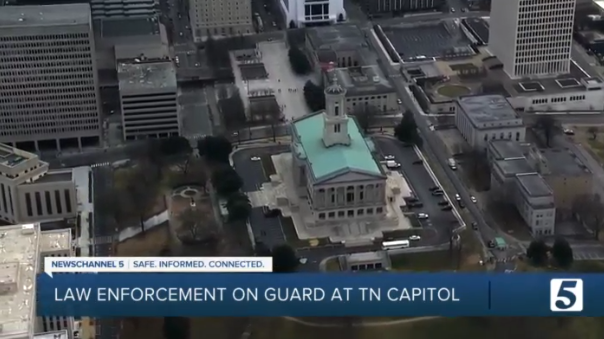 NASHVILLE, Tenn. (WTVF) — Three days before Inauguration Day, state and local law enforcement agencies braced for a potentially violent protest at the Tennessee State Capitol.
Last week, the FBI warned police nationwide about potential armed protests at all 50 state capitols.
"They have done a great job at keeping us safe and making us feel safe, and have been very communicative between all the agencies that there will be an increased security presence," said Rep. Vincent Dixie, Chairman of the Tennessee House Democratic Caucus.
Leading up to the inauguration, the Metro Nashville Police Department will have more officers downtown and near the state capitol.
A spokesperson for Tennessee House Speaker Cameron Sexton issued a statement about the enhanced police presence.
"Speaker Sexton is aware of the planned events for this week. While we all respect the rights of Tennesseans to peacefully assemble, our expectation is for these events to remain peaceful. The speaker has confidence in and he fully supports Gov. Lee and his administration, as well as state and local law enforcement to use the resources available and required to preserve public safety."
On Sunday, a few demonstrators walked through legislative plaza, but nothing escalated.
Earlier, the Tennessee Highway Patrol placed barriers around the Capitol in anticipation of a possible protest.
"We can all can go and voice our displeasure with the government, but you can do it in a safe manner. So, I welcome people. If you want to come please come, but let's do it safely, let's do it lawfully and let's do it in the spirit of democracy," said Rep. Vincent Dixie.