LEADERSHIP IN TIMES OF CRISIS
Gov. Bill Lee and years of Republican-led leadership in the legislature have crippled Tennessee in the fight against the Coronavirus. Rural hospital closures have forced folks in outside counties to seek treatment in our urban hospitals. Lack of Medicaid expansion has left thousands of Tennesseans without access to healthcare. And unclear directives have made it hard to get the facts. It's clear that to them, corporate interests outweigh the needs of the people.
During his first term, Rep. Dixie has learned to work with both Democrats and Republicans to find solutions to our most pressing problems, and you can bet he's fighting now to push state leadership to make smart decisions that protect the health and safety of all Tennesseans.
BUILDING A FUTURE FOR OUR FAMILIES
Even before this virus struck, the most vulnerable members of our community – our children and our elders – did not have it easy in the state of Tennessee.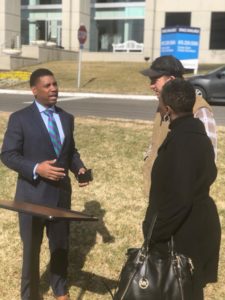 As the husband of a Metro Nashville Public Schools educator, Rep. Dixie knows how tough it is for teachers, kids, and parents. Parents should not have to fear for their children's safety at school and on the bus. Teachers should have the support they need to teach without having to dip into their own pocketbooks for supplies. And Tennessee's children, no matter whether they attend Julia Green or Alex Green, should be able to access a quality education that prepares them for their futures.
Rep. Dixie also watched his mother, Glenda Dixie, suffer from stage 4 lung cancer. In addition to the physical and emotional toll an illness takes on a person and their family, there is also a significant cost for medicine and hospital visits. No one should ever have to choose between food, shelter, and medicine, but that's the situation many of our elders find themselves in. Rep. Dixie's mother was a fighter, and she had her son to help her make ends meet. But not every ailing parent has that luxury. After spending their lives building a community and raising a generation, all of our seniors should have the right to a basic quality of life.

At the legislature, Rep. Dixie fights for public schools and Medicaid expansion. It's past time that real solutions were found for these issues.  
We Need Your Help
Bringing reasonable politics to the Tennessee Capitol is a long hard battle, and we need your support. If you have any interest in helping with the campaign, volunteering your time or helping with events and fundraising, please let us know. And if you want to donate, it will help greatly.