Three employees placed on administrative leave after lawmakers homes, offices raided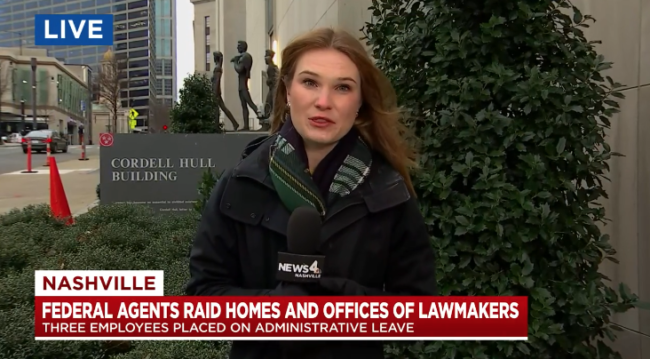 NASHVILLE, TN (WSMV) – Federal agents are reviewing documents taken from the home and offices of multiple Tennessee lawmakers on Friday morning, but the cause of the raids remains a mystery.
Federal investigators were spotted holding boxes and walking out of Former House Speaker Glen Casada's home.
On Friday morning, federal authorities also raided Casada's and State Rep. Robin Smith, Kent Calfee, and Todd Warner's offices inside the Cordell Hull building, which houses offices for the state legislature. Warner's business was also raided.
"I think this day is a sad day for Tennessee and the general assembly," Current Tennessee House Speaker Cameron Sexton said.
In a statement on Friday, Sexton said he was "contacted by federal authorities regarding an ongoing investigation related to the former speaker's office."
"I have been, and I will continue to be in full cooperation with the authorities as their investigation continues. On the advice of both Ethics and Legal Counsel, I am placing everyone that was subject to the execution of today's search warrants on administrative leave until further notice," Sexton said in a statement on Friday.
Following the raids, three legislative employees were placed on paid administrative leave, according to Connie Ridley, who is the Legislative Administration Director for the General Assembly.
Holt Whitt, the interim Chief of Staff to Speaker Cameron Sexton
Nadine Korby, legislative assistant to Kent Calfee
Carol Simpson, legislative assistant to Glen Casada
"As employees they had search warrants which does not imply guilt or innocence or anything of that nature. Since they are part of an active investigation," Sexton said during a news conference on Friday morning.
Ridley said the state lawmakers involved in the investigation cannot be put on administrative leave because they were elected to their positions.
"Personally these are friends and colleagues that we've worked with for many years," Sexton said. "It's never a win when any of our colleagues on an investigation or put in a spotlight of any federal investigation. There's no win for anybody in this situation because we are here to do the peoples work."
Attorney Ty Howard  is representing Whit and acknowledged his client was "contacted by agents with the Federal Bureau of Investigation regarding an ongoing investigation."
"Mr. Whitt is a well-respected legislative aide with an impeccable reputation, and he has not been charged with any wrongdoing. He is cooperating fully with the investigation. Out of respect for the legal process, Mr. Whitt will have no further public comment regarding this matter," Howard said in a statement on Friday.